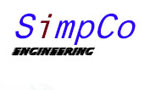 professional engineer Dipl.Ing., Dipl.Wirt.Ing. Lars Simpelkamp
Höhenstraße 3,
D - 36399 Freiensteinau
Tel: 0049-(0)6669-9180800
Fax: 0049-(0)6669-9180899
E-Mail: simpco@simpco.de






As Industrial Engineering System Architects for industrial engineering, we are working for your success:
...as Project Consultants
For independent planning and preparation of feasibility studies to cater to your specific needs
For supporting your sales engagements and representing your organization's activities on exhibitions, congresses, seminars, etc.
For carrying out risk analysis and hazard identification and prescribe safety precautionary measures
... as Project Managers
For Preparation of Project Management handbooks
For scheduling activities as well as planning and controlling of work sequences
For establishing interdisciplinary cooperation parties
For progress and quality control on site and in separate workshops
For support in project variation and claim management
For support/preparation of method statements, training manuals, etc. during the project
For preparation of final Operations and Maintenance Manuals
... as Technical Support Experts and Technical Trading
For carrying out product surveys
For value engineering on components as well as overall projects, especially for the development of new products
Based on our vast experience over the years in International projects, we are well specialised as Project Consultants as well as Project Managers for all kinds of projects.

We ensure a high level of quality in our services by frequent participation on training sessions ad engagements in professional associations as like VDI (Association of German Engineers), FML (Professional Association for Material Handling) and VBI (Association of Consulting Engineers).

Besides projects on automotive, storage & distribution fields as well as airport projects, we fwer involved in projects for healthcare an therapy systems as well as on treadmill systems for training and rehabilitation of humans and animals.